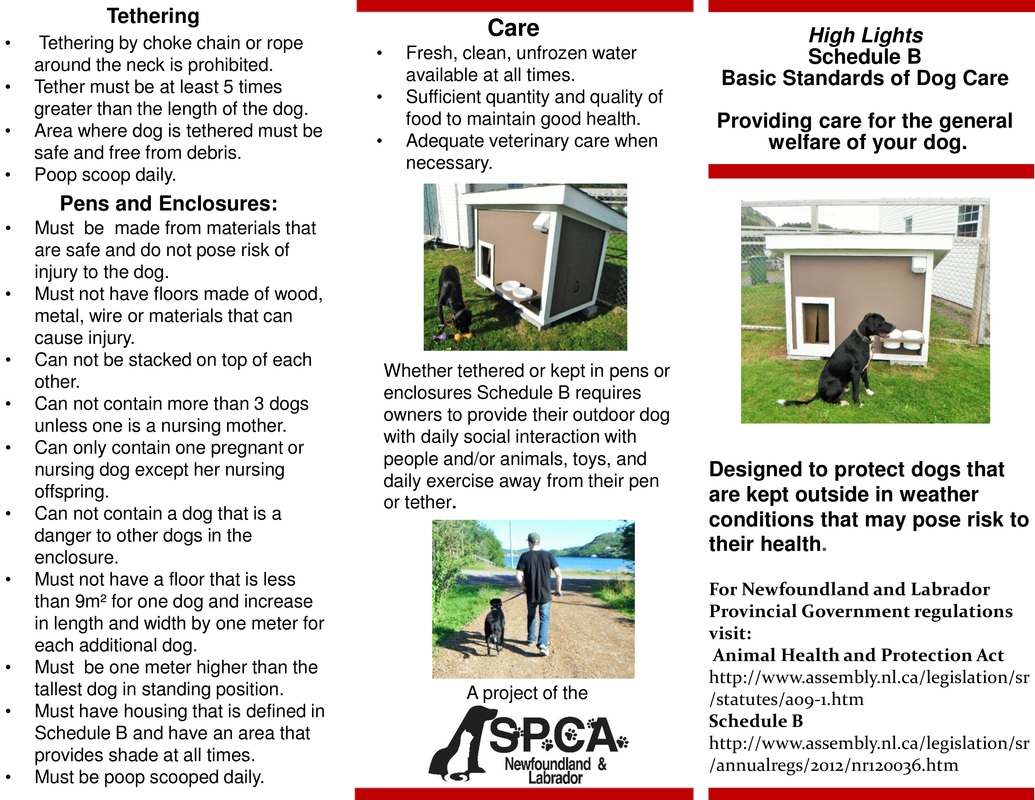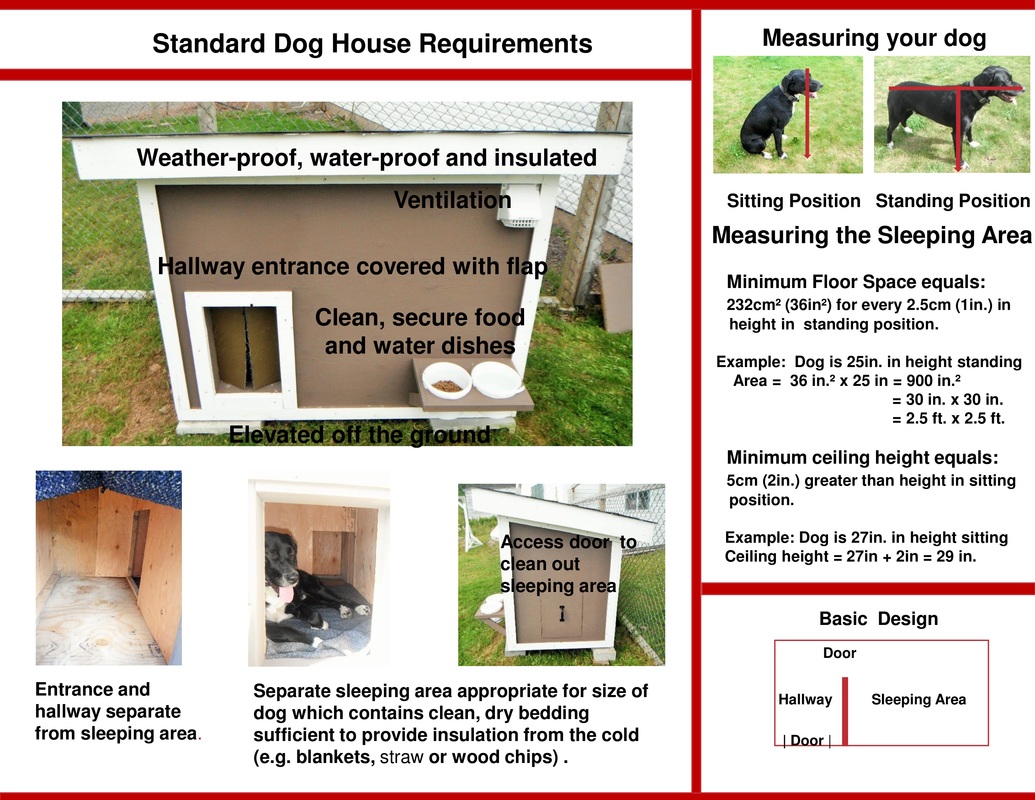 ---
---
NL ANIMAL HERO AWARD


---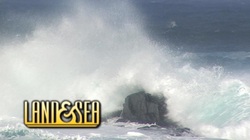 ---
---
http://www.thelabradorian.ca/News/Local/2015-02-06/article-4034386/Help-needed/1
Published on February 06, 2015
Happy Valley-Goose Bay SPCA president Lee Hill is hoping public support and donations will help the organization finish the new SPCA shelter by this spring.
Labrador SPCA looks for public's support to help finish new shelter by springThe president of Labrador's only SPCA says their building funds have been exhausted and they are now looking for public support to help finish their new shelter.
The Happy Valley-Goose Bay SPCA started fundraising specifically for a new shelter in February of 2012.
They poured the foundation for a new building in the fall of 2013.
"We will always hold a special place in our heart for Jack Courage and (the late) Barney Power, as the current building would never have been a reality without the local businessmen," said Hill.
"But we started fundraising for a new building about three years ago because we knew the point was coming that if we didn't, our shelter would literally be falling down around us and we would have nowhere else to go."
The new shelter — which is approximately 70 per cent finished and is located next to the current building — offers 2,500 square feet of space, including more dog runs, two large cat rooms, and a separate sick bay and maternity wards.
It also has modern upgrades the current shelter doesn't have, such as a state-of-the-art air exchange and air conditioning systems.
In comparison, the current shelter is 980 square feet, has six dog runs, one very small cat room, and no separate areas for sick or pregnant/nursing animals.
Hill notes staff, volunteers, and visitors alike have to be careful when entering the shelter, as the office/reception area is used as an overflow for animals — particularly cats and kittens — more often than not.
She adds the SPCA handles hundreds of animals a year between the shelter and the few foster homes that open their doors.
"The need for this new shelter to be open has never been greater," said Hill, noting the exceptional amount of snowfall so far this winter which, at one point last month, threatened to cave in part of the roof.
To date, the interior of the new building has been completely plastered and painting will commence in the next few weeks.
But there is still lots more to be done, both in terms of labour and materials to be purchased or donated in new or like-new condition (see list at the end of this article).
Hill said the funds from the their biggest sponsor to date — Exit Realty on the Rock based in St. John's — have also been depleted.
"We never would have gotten to this point without their help, from both their cash and in-kind contribution," said Hill. "It really kick started our new building, and we have had so much tremendous help from several companies and businesses when it comes to labour and supplies.
"We just need that little bit more to enable us to open our doors by this spring, so we can help more animals from across Labrador."
Anyone looking to help the SPCA can contact Hill at 896-7450; or call 897-5661 or 897-4780.
The Happy Valley-Goose Bay SPCA is requesting help in obtaining the following list of items in either new or "like new" condition, so they can finish their new shelter by spring. Anyone able to help is asked to call 897-4780; 897-5661; or 896-7450
1. 1750 sq ft of ceiling tile and dropped ceiling.

2. Light fixtures

3. Industrial epoxy for approx. 800 sq ft

4. Kitchen cupboards

5. "Apartment sized" fridge

6. A lot of melamine shelving

7. Lumber/Plywood for interior kennel walls

8. Lexan for 3 interior observation windows

9. Reception counter 'desk'

10. Tub surround

11. Double stainless steel kitchen sink 

12. 'Windswept smoke' siding for storage shed

13. Small shed to store snowblower

14. Large dumpster for garbage

15. Fire extinguishers

16. 80 gallon hot water tank.

17. Barker tile (or something similar) for three rooms approx. 8 x 11 each.

18. Smoke detectors

19. Backyard lighting.
---
For Immediate Release:
Jan 13, 2015
SPCA Newfoundland and Labrador (SPCA NL) would like to inform the general public that with the passage of the new Animal Health and Protection Act in 2012, SPCA NL and its 8 branches which comprise of St. Johns, Baccalieu, Burin, Clarenville, Gander, Exploits Valley, South West Coast, and Goose Bay, have been instructed by the Department of Natural Resources to stop responding to complaints of animal neglect and abuse. SPCA NL is not considered an enforcement agency under the Animal Health and Protection Act.
Every year, the SPCA NL branches receive more than 750 complaints of possible animal neglect and cruelty across the province. As a community organization with public trust, dedicated volunteers and staff knowledgeable in animal care and behaviour, SPCA NL could provide a key role in the area of responding to complaint calls. Therefore, SPCA NL will remain focused and committed to re-establishing a presence in providing a sustainable response to animal abuse complaints, educating the general public and assisting enforcement agencies in carrying out this mandate more effectively.
Under previous legislation SPCA branches had authority to enforce legislation, and to support law enforcement agencies, in the prevention of animal cruelty. Currently SPCA NL branches have authority to hold animals that have been seized by the RCMP or RNC but not to be engaged in the enforcement activities leading up to that seizure in any way. Once an animal seizure occurs and the animal is placed in the care of the SPCA, the shelter has to assume all costs associated with housing and caring for the animal and in some cases these costs have been in the range of several thousands of dollars.
The Provincial Government has stated that the services of the RCMP, RNC and designated Municipal Officers are providing an adequate service in responding to complaints of animal neglect and cruelty in this province. SPCA NL Board and its 8 branches contend that animal cruelty deserves additional attention as there continue to be gaps in service across the province. While the RCMP/RNC and municipalities are working diligently to fulfil their obligations under the Animal Health and Protection Act, these enforcement agencies have many other responsibilities besides animal investigations. Many citizens continue to contact the SPCA with complaints of animal cruelty because the timelines for investigations appears extensive and the individuals logging the complaints are concerned about the level of distress of the animals. The SPCA continues to receive requests for assistance from enforcement agencies. The involvement of SPCA branches would result in a better utilization of resources and more expedient response to all complaint calls.
SPCA NL will continue to advocate to the Province for authority to be able to work with existing forces to provide better coordination, and bring stronger animal health knowledge to the process of enforcement.SPCA organizations are a valued member of the enforcement process across Canada.
They are a professional, knowledgeable, and trusted agency. The animals of Newfoundland and Labrador deserve the same consideration as other provinces.
The Provincial Government supports the sheltering and rehoming operations with an annual renewable grant of $110,000, representing just over 10% of the $1.2M spent by shelters across the province. The remaining funds for shelter operations are provided by private and corporate donations. The more than 2,000 animals directly coming through our shelter doors and hundreds of others are assisted through various community programs, thanks to the Province and the public. However, the needs of those animalsthat are neglected and face abuse that do not come through our doors also need resources, attention and care.
We ask that the public tell their Members of the House of Assembly their concerns to ensure animals'voices' are heard in this matter. The animals of Newfoundland and Labrador deserve to be safe, protectedand free from suffering. SPCA NL should be provided a role in enforcement activities to provide protection for animals of Newfoundland and Labrador.
-30-
Media Contact:
Simone Browne, Past Chairperson
SPCA NL
726-0301
spcanlboard@gmail.com
---
MUSHKADOODLE DAY!!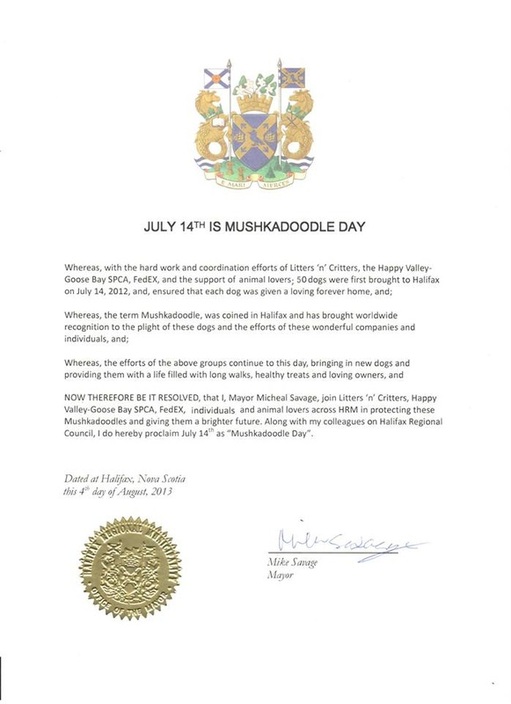 From all of us at LnC and the HVGB SPCA and Fed Ex, thank you Councillor Darren Fisher and MLA Andrew Younger, for presenting us with this proclamation making July 14th the official Mushkadoodle Day in HRM!!!!! Thank you Mayor Mike Savage and Josh Bragg for all your hard work with this venture

---
---
Natuashish Dog Rescue
A unified effort by both the Happy Valley-Goose Bay SPCA & the Innu Band Council of Natuashish has been formed to ensure the overpopulation of dogs in Natuashish can be addressed and managed by a more productive means. This will involve a spay/neuter program initiated once the overpopulation of some 300+ roaming dogs is dealt with through extraction & rehoming.
Due to the remoteness of northern communities, lack of funding & resources, we have struggled to keep the overpopulation of dogs under control. We are now in a position to work together to try to rectify this problem in Natuashish.
In order to succeed, we are calling on the support of not only the Atlantic Provinces, but Canada as a whole to aid us in our Humanitarian efforts by whichever means they can. This will require Fosters, Transports, Adoption, Financial aid and Supplies.
A Facebook group has been formed to outline these needs & made accessible for you to provide us with whatever assistance you can offer.
http://www.facebook.com/groups/313670422089020/
UPDATE!!
The HV-GB SPCA would like to send out a HUGE thank you to everyone who helped in
the dog transfer from Natuashish to Goose Bay the past two days, starting with
everyone who donated money & supplies prior to the transfer; to Air Labrador
& Innu Mikun for the use of their aircraft, staff and hangers; to the foster
homes and boarding kennel; to our own volunteers who took time off work to
travel to Natuashish to make this happen; and to Chief Simeon Tshakapesh for all
his positive support and arranging people on the ground in Natuashish to help
out our crew when they got there - from all accounts, it was a HUGE success! A
total of 67 animals will got their wings and headed to our friends Litters
N Critters in Halifax via our other major friend & partner,
FedEx!! THANK YOU THANK YOU THANK YOU TO EVERYONE!!!
---
HAPPY VALLEY-GOOSE BAY SPCA "OVERWHELMED"
BY CORPORATE SUPPORT FOR NEW SHELTER

September 27, 2012
- The President of the Happy Valley-Goose Bay SPCA says she
is "overwhelmed and still in shock" by a recent commitment of support by Anne
Squires, owner of
Exit Realty on The Rock
.
"The SPCA cannot express our thanks and gratitude enough for
what Anne and her company are planning, in order for us to reach our gaol of
building a new shelter for Labrador," said Lee Hill.
"It's still a bit of a shock and we're still letting it sink
in!"
At 1 p.m. Labrador time today in Happy Valley-Goose Bay, Anne
Squires launched the "Exit Cares for Critters" campaign, whereby they have
committed to fundraise a minimum of $100,000 to go towards the building of a
new SPCA building in June of 2013. Squires noted her company has been involved
in various community-minded projects over the years, including Ronald McDonald
House, Daffodil Place and the Children's Wish Foundation.
In addition to the approximately $60,000 already raised, and
commitments of in-kind support and and materials, Hill said she is optimistic
that the new shelter will indeed be a reality next year.
"To have Exit Realty come on board, and commit to such an
undertaking, goes above and beyond what we expected when we were told they were
interested in assisting us," she said.
"We are hopeful this wonderful show of support for the
animals will encourage other businesses and corporations to come forward over
the next nine months to lend a helping hand."
For more information on this project, contact Bonnie Learning, PR Director,
Happy Valley-Goose Bay SPCA, at (709) 896-0900; (709) 897-5661; or email
bonnielearning@gmail.com
.
---
INACCURATE REPORTING POSSIBLY HURTING HV-GB SPCA


JULY 18, 2012 – The President of the Happy Valley-Goose Bay SPCA says
inaccurate facts being reported as of late in the media may be hurting the
SPCA's reputation and efforts to fundraise for a new shelter.

Recently, the HV-GB SPCA, Litters n' Critters Animal Rescue
in Halifax, and FedEx Canada teamed up to transport some 50 animals to Litters
n' Critters.

"It has been reported by several media outlets, including TV,
radio and print – that all of these animals that were shipped to Halifax were
rescues that came as a result of the forest fires in our region earlier this
month," said Hill. "This is NOT the case. When we got wind that this angle was
being portrayed, we immediately contacted Litters n' Critters and FedEx before
they came to Goose Bay on July 14th, to correct
this information."

Hill added the SPCA's PR Director clarified this
misinformation on CBC Radio's Labrador Morning program on July 16th.

She also said as recently as today, this information is still
being reported in the media to some extent, however, of even greater concern was
an article that was posted to the on-line edition of the Truro Daily News
yesterday.

"The article stated that our shelter had actually been
destroyed by the forest fires," noted Hill. "We have no idea where the reporter
of this article got that information, but it's extremely frustrating and
disappointing that this all could have been avoided with a simple phone call to
our SPCA or PR director directly, or even to Litters n' Critters at the very
least."

Hill said all of this incorrect information could possibly
hurt the SPCA's chances of raising money for a new shelter ("To replace our
current one, NOT one that was destroyed by fire!"), especially if the public
thinks all of this information is coming from the SPCA itself.

"If people think that we are saying all of this as a way to
garner a 'sympathy vote' in terms of looking for assistance to build a new
shelter, this could really work against us," she said. " But I want to make it
VERY clear that NONE of the above so-called 'facts' came from our SPCA executive
or board members. In fact, we tried very hard to get the correct information out
there so as to avoid such a situation."

For more information on ANYTHING RELATING TO THE HV-GB SPCA AT ANYTIME,
contact Bonnie Learning, PR Director for the HV-GB SPCA at (709) 896-0900 or
(709) 897-5661.


---
HV-GB SPCA, LITTERS N' CRITTERS TEAM UP WITH FEDEX CANADA!


JULY 2, 2012 –
The Happy Valley-Goose Bay SPCA got some surprising - and happy! - news over the long weekend.
FedEx Canada has announced they will be re-routing one of their cargo planes to Happy Valley-Goose Bay on July 14th, to assist in transporting some 50-60 of the HV-GB SPCA's dogs & puppies that are currently in their care.
Lee Hill, President of the HV-GB SPCA, was shocked when she heard the news.
"To have such a huge corporation as FedEx come on board to help us with transporting of animals to Halifax is truly unbelievable," said Hill. "We were almost ready to go out of our minds, wondering how in the world we would ever move 50-60 of our animals since the summer flight embargo came into effect on June 20th out of Goose Bay. We couldn't be more elated!"
The offer of assistance came about as a result of a Twitter posting by one of the many supporters of Litters n' Critters, a foster home-based animal rescue organization based in Halifax, with whom the HV-GB SPCA has been partnering with for the last four years.
"I knew there were a lot of dogs and pups in the shelter and foster homes and since we couldn't get a lot out this year, I put out a (plea) on Facebook looking for someone with a plane or if they know anyone with a plane," explained Shelley Cunningham, President of Litters n' Critters.
"One of our supporters twittered it and Adrian Grundy, the Manager of Corporate Communications & Public Relations from FedEx, found out about it that way."
Cunningham said Grundy contacted her, and she explained the situation with regards to the many animals the HV-GB deals with on a daily, monthly, and yearly basis. She also told him about the difficulty with shipping animals via aircraft, due to various factors as weather, and embargoes due to temperatures in the cargo holds of the aircraft they do use.
"He was so sweet and nice and understanding and said he was going to present it to his boss the next morning and call me back. He called me back and said that all they needed was permission to go into Goose Bay air space and if that goes through, it will happen. He said he would call me back the next afternoon. And he did. And he said yes. And I cried!"
Hill noted it is because of such partnerships with the business/corporate community, that volunteer-based, grass-roots organizations such as the HV-GB SPCA and Litters n' Critters are able to stay afloat and help some of the most "vulnerable members of society."
"To have this level of support is truly overwhelming," said Hill. "We are truly blessed to be affiliated with such caring, compassionate, wonderful people."
Cunningham said they are more than ready to receive all the animals on July 14th from what she affectionately dubs the ' Labramushkadoodle Express.'
"We have such a great network of volunteers and supporters and people are offering to foster, transport, donate food, blankets, dishes...one lady even bought new collars for the pups.
"It's going to be busy, but together we can pull off this flight of miracles. And thank you just doesn't seem to be enough to say to FedEx. We are truly genuinely appreciative of what they are doing for these pups.
"We also love the Labramushkadoodles and everyone at the HV-GB SPCA."
For more information, contact:
Bonnie Learning – PR Director, HV-GB SPCA
(709) 896-0900 (h); (709) 897-5661 (c); email bonnielearning@gmail.com
Website:
www.hvgbspca.com
Shelley Cunningham- Litters n' Critters
(902) 430-9998 (c) or (902) 820-2424
Website:
www.littersncritters.com
---
HV-GB SPCA FORMS PARTNERSHIP TO BUILD NEW SHELTER IN 2012!


FEBRUARY 21, 2012 –
The president of the Happy Valley-Goose Bay SPCA is elated to announce the formation of a partnership with another animal rescue organization to build a new SPCA shelter this coming summer.
The SPCA has teamed up with Litters 'N Critters, based in Halifax, with whom they have worked with over the last four years in the adoption of Labrador puppies, dogs and cats to the Halifax region.
"We were absolutely stunned to hear that Litter's n' Critters Shelley (Cunningham) and her volunteers and supporters plan to help us out," said Hill, "We knew they were big supporters of us and grateful for all the dogs and cats we send their way but to find out they want to help build a new shelter this summer - it goes above and beyond what we could have hoped for. We could not be more excited!"
Hill was contacted by Cunningham last month, but could only go public with the news this time, as they finalize details.
Cunningham explains the interest in helping the SPCA, the only SPCA in Labrador.
"The project we are planning is a 'Habitat for Humanity' type build, with volunteers from Nova Scotia travelling to Labrador to join with volunteers and trades people in Happy Valley-Goose Bay to build a new animal shelter," she said.
Cunningham returned to Halifax after visiting Hill and her volunteers and viewing the shelter for herself late last week.
"The current shelter is small and in very poor shape," she noted. " It's inadequate, has a very limited capacity and is literally held together (in places) with duct tape."
Cunningham added there is an incredible need for a bigger and better shelter for the SPCA volunteers who work tirelessly every day to save hundreds of homeless and abused animals from all over Labrador.
"The shelter relies on donations and fundraisers as it only receives $10,000 annually from the provincial government, yet food and vet costs alone are $20,000 to $23,000, not counting the normal day to day operational costs. The stray animal population in Labrador is out of control and the federal and provincial governments turn a blind eye when approached to help. Unfortunately, this is an all too common dilemma for many of Canada's northern communities."
Cunningham noted Litters 'n Critters and the H-GB SPCA will be organizing fundraising events as well as planning for the building project scheduled for this later this summer/fall. Anyone interested in donating to the fund can contact these organizations through their websites.
"This is our way to say thanks to all the amazing volunteers all across Labrador for all those precious gifts of wonderful animals saved by the H-GB SPCA that are sent to be adopted by hundreds of grateful Nova Scotians. We are fortunate in Nova Scotia to have a large volunteer base to help foster animals and raise funds to help with our costs so we are pleased to be able to reach across borders and assist a northern community that is struggling. This is an exciting project and may inspire other rescue groups to link with rescue organizations that are less fortunate."
For more information on this project, contact:
Bonnie Learning – PR Director, HV-GB SPCA
(709) 896-0900 (h); (709) 897-5661 ©; email bonnielearning@gmail.com
Website:
www.hvgbspca.com
Shelley Cunningham- Litters n' Critters
(902) 430-9998 (c) or (902) 820-2424
Website:
www.littersncritters.com
---
AVIVA
First of all, we are so thankful for everyone that voted for the Happy Valley-Goose Bay SPCA for the Aviva Community Fund. The abundant support that we have received is amazing. The SPCA Board of Directors are so blessed to have the support that got us to the finals in 2nd place for voting out of all the finalists in all of Canada. That is amazing! We do REGRET to announce that we did not obtain any of the funds from the AVIVA Community Fund Competition. We did certainly put a great deal of work into it, and so did you, our voters and our supporters. We want you to know that we will not give up. Our drive to get a new shelter is stronger than ever. We will persevere and we will get the Shelter that our abused, neglected and abandoned animals so desperately need to give them the chance to find their well deserved loving homes. We would like to extend our congratulations to those who did obtain funding from AVIVA as all contestants deserve this opportunity. In addition, would like to thank all the SPCA Board Members for their help and especially to Erika who took the initiative to submit the idea to the competition and for dedicating her time and efforts in helping get us to the finals. Also to Dean and Stacey Burry, Adam Somers and Catherine Younge for providing videos and to Carol Best who originally brought the idea to our attention. If anyone has any questions please contact
erikastockley@hotmail.com
. Again your support means more then you can even imagine.
---
HAPPY VALLEY-GOOSE BAY SPCA NEEDS YOUR VOTES!
OCTOBER 26, 2011
– The Happy Valley-Goose Bay SPCA is in the running for some serious money
to help build a new shelter, but they need YOUR vote to help make it a reality.
"Our new vice-president, Erika Stockley, made a submission to the Aviva Community Fund, which is
distributing $1,000,000 to worthy organizations and causes from across the country," explained Lee
Hill, President of the HV-GB SPCA.
"We are entered in the 'large' category, which means we could possibly receive $100,000 - $150,000 to
go towards the cost of building a new shelter, which we desperately need."
According to the Aviva Insurance website, www.avivacommunityfund.org, "...we created the Aviva
Community Fund competition to help make a positive impact in Canadian communities - whether that's
through providing new opportunities for at-risk youth, education, helping the environment, or cultural
activities - by funding local and national initiatives for change. We care about our communities, and we
know you do too."
Through an on-line voting process, Canadians choose the 90 semi-finalists in three rounds of voting.
The top 30 semi-finalists move on to the finals. A panel of judges then uses criteria such as the impact
on the community and sustainability to decide final winners and allocate funds.
The submission from the SPCA reads, in part, "The Happy Valley-Goose Bay (HVGB) SPCA is in
desperate need of a new Animal Shelter. The Current Shelter is old, small, only has a very tiny cat room
with only 6 dog kennels which are approximately 4 X 12 in size. Our bathroom, kitchen, and laundry is
one small room for our volunteers. Our reception/public area is very small and sometimes has to be a
cat room due to overflow. The inside shelter area where the dogs play is very small. The outside area is
100 X 200 which is a fair size, but extreme cold winters prevents animals from staying outside for too
long and other elements also only allow this area to be utilized part of the time."
"There are literally hundreds of worthy submissions in this competition," said Hill. "While we know
that this will be tough, we are confident we have the support out there to get the highest number of
votes to move on to the next round and hopefully make the finals."
Hill said they are asking everyone and anyone to not only vote for them, but to pass the information on
to all their own personal contacts via email and Facebook.
"This is something we have to try to accomplish, to start the ball rolling on funding for a new shelter,
or we'll be forevermore trying to get a new building," said Hill. "With a new building, we can provide
more space to take in more abused, abandoned, neglected and stray animals."
People can vote once per day per email address.
To vote for the HV-GB SPCA and to find out more about their submission "Labrador SPCA Needs a
New Animal Shelter for K-9's and Felines" and the Aviva Community Fund, please visit
http://www.avivacommunityfund.org/ideas/acf12652#.TqWw6BOFuRE.email
For more information, contact Bonnie Learning, PR Director for the HV-GB SPCA at (709) 896-0900
or (709) 897-5661.
---
HAPPY VALLEY-GOOSE BAY SPCA MEETS WITH MP PETER PENASHUE

OCTOBER 4, 2011 – The Happy Valley-Goose Bay SPCA Board of Directors had a successful meeting with Labrador MP Peter Penashue on Saturday, October 1.
The Board had been trying to meet with MP Penashue regarding some very serious cases of animal abuse as of late out of Labrador.
"We were contacted by Mr. Penashue's staff on Friday, and on Saturday morning, we met with him and two of his staff people at his constituency office in Happy Valley-Goose Bay," said Lee Hill, President of the HV-GB SPCA, who met with MP Penashue along with three other board members.
Hill noted while they spoke to Mr. Penashue about the animal abuse, they also spoke about several other issues of concern, including the stray dog situation in the Upper Lake Melville area; the need for a new, larger and more efficient shelter; and the need for more funding in general to help keep the SPCA alive and functioning.
"MP Penashue was very concerned about all the issues we raised and was surprised by some of the facts we presented," said Hill. "He saw that there is a real need for change as it relates to animal control in the area, as well as the need for more money to help keep us going, as we are the only animal shelter in all of Labrador."
Hill said MP Penashue committed to helping the Board set up meetings with various stakeholders regarding these issues in the months to come.
"We were very pleased with our meeting and we look forward to MP Penashue's continued support of the HV-GB SPCA and it's goals in the years to come," said Hill.
For more information, contact Bonnie Learning, PR Director for the HV-GB SPCA at (709) 896-0900 or (709) 897-5661.

---
HAPPY VALLEY-GOOSE BAY SPCA TAKES ON ANOTHER ABUSE CASE

September 27, 2011 - The Board of Directors for the Happy Valley-Goose Bay SPCA has become a safe haven for yet another abuse case out of central Labrador.
On Saturday, a four-month old puppy was found tied to a tree in a wooded area on the First Nation reserve of Sheshatshiu. It had been tied to the tree with a rope around its neck and mouth. Lee Hill, President of of the HV-GB SPCA, said it had to have been there for at least several days, if not longer, as the rope had cut into its neck and mouth, causing severe lacerations (see attached pictures).
"It was just pure luck that someone came across this puppy," said Hill, noting that the puppy weighed a mere 10 lbs.
"What goes through someone's mind when they decide to do something so horrendous? We can only imagine the fear and pain this innocent animal must have been feeling when it was essentially left there to die."
The puppy – since named Karma – was taken to the local vet in Happy Valley-Goose Bay, where it is expected to make a full recovery.
"Despite what this beautiful little puppy went through, despite being left to die with no more thought given to it then if it was a piece of trash, when she was examined by the vet, she was wagging her little tail – that in itself says a lot about the forgiving, trusting and innocent nature of dogs.
"At least she is in a safe place now where no one will ever hurt her again."
Hill noted the SPCA is still awaiting a response from Labrador MP Peter Penashue, who was emailed on June 2, with regards to these serious issues.
For more information, contact Bonnie Learning, PR Director for the HV-GB SPCA at (709) 896-0900 or (709) 897-5661.
---
HAPPY VALLEY-GOOSE BAY SPCA FED UP WITH ANIMAL ABUSE;
CALLS ON POLITICIANS TO ACT
September 19, 2011 - The Board of Directors for the Happy Valley-Goose Bay SPCA in central Labrador say they are "fed up" with the overwhelming numbers of animal abuse cases in Labrador and are calling on provincial and federal politicians to act on the issue.
"The abuse we've been seeing has escalated dramatically over the last number of years," said Lee Hill, President of the HV-GB SPCA. "Since we opened our doors in 2000, we have gone from cases of neglect, where dogs where left tied on 24/7, with no food or water, to stabbings, beatings, and worse."
Most recently, a four-week old puppy was rescued out of the northern community of Natuashish, where it was suspected some children forced it to inhale gasoline fumes.
"We got the puppy in Goose Bay on Friday, Sept. 16, and on Saturday, it suffered six major seizures within a few hours - we had no choice but to have it euthanized," said Hill. "This is what we are teaching our children? That animals are just things to harm and do cruel things to? We are just sickened by this and all the other incidents we see on almost a daily basis."
Hill also noted that in recent weeks, the board, as well as numerous friends and supporters of the SPCA in Labrador and Nova Scotia, have been emailing provincial and federal politicians - most notably Premier Kathy Dunderdale and Labrador MP Peter Penashue - to take some action on what they call a "crisis" as it relates to animal welfare in Labrador.
..."The animals are suffering and will continue to suffer if we don't get the support we need from those in a position of power to change the laws and engage their communities in helping to end the abuse."
For more information, contact Bonnie Learning, PR Director for the HV-GB SPCA at (709) 896-0900 or (709) 897-5661.